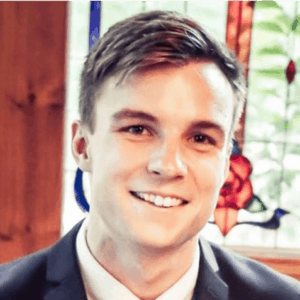 Daniel Gould began his journey with OPUS in July 2018 while working on his MDRP, a research project that is a part of the University of Melbourne's medical degree. Since then, he has worked on the SMART database as a research assistant, and in June of this year he became the University of Melbourne's first combined MD-PhD student. As an MD-PhD student, Daniel has postponed his final year of medical school to work full-time on his PhD project.
The idea for Daniel's PhD project first emerged while he was working on his MDRP. Part of his MDRP involved conducting a systematic review of patient-related risk factors for 30-day unplanned readmission following total knee replacement. To build upon his findings, he decided to spend his PhD using machine learning to develop a tool that predicts patient's risk of readmission after knee replacement surgery. As Daniel was new to machine learning when he began this project, he has undertaken several online courses and is enrolled in the University of Melbourne's Graduate Diploma in Biostatistics. The hope for his risk prediction tool is that is can be integrated into the Electronic Medical Record to help inform the shared decision-making process between patients and clinicians.
Since commencing his PhD in June, Dan has made quick progress. He has published a systematic review protocol and has a narrative review currently under consideration. Going forward, he will be working on projects spanning from machine learning – to develop his risk prediction tool – through to qualitative work to explore what patients and clinicians think about the use of 'artificial intelligence' in clinical decision-making. He has also commenced work as a research assistant on a project exploring the use of opioids in total joint replacement surgery.