CONSUMER & COMMUNITY INVOLVEMENT PROGRAM​
The Consumer and Community Involvement Program (CCIP) facilitates partnership between consumers, community members and researchers. 
It provides researchers with an invaluable perspective to the appropriateness, relevance and applicability of their research program. Consumers learn more about health research and are empowered to make informed choices about their health care.
Involving consumers and community members in the research process is an important step towards developing and delivering effective, patient-centred health care. 
There are currently no formal programs through which researchers can incorporate consumer experiences into research project design in the field of orthopaedic research in Victoria. 
Our work at OPUS can only produce practical outcomes by engaging with consumers through the life of the research project cycle to ensure that research outcomes match community expectations.
Participants from all backgrounds are invited to join the program. OPUS will maintain a support network for consumer members and researchers to ensure participants are engaged and kept abreast of progress.
Consumers begin at Tier 1 and can elect to move up within the tier system (level of involvement), dependent on their time commitment and research interests. General training will be provided to all participants as a half-day orientation workshop into the consumer roles and responsibilities and the medical research landscape. 
Once consumers nominate a tier, OPUS will facilitate the initial contact with a researcher, and remain in constant contact with both parties. Consumers will henceforth primarily work in conjunction with this researcher on a specific project, rather than with the broader OPUS team.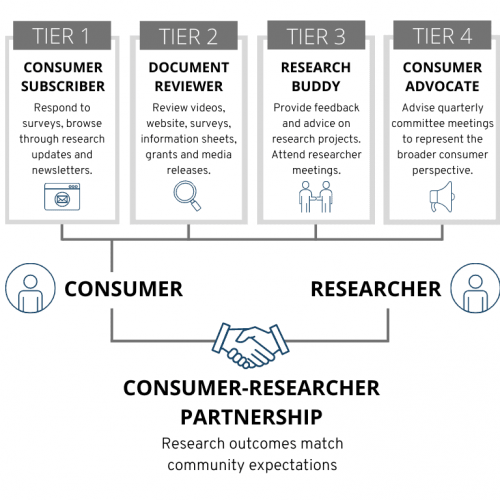 The program is guided by a Consumer Advisory Group (CAG), consisting of consumer advocates, researchers, research students and administrative support. The CAG meets quarterly to discuss research progress, activities within the CCIP and provides an opportunity for all consumer participants to bring any issues or concerns to the attention of OPUS for resolution.
OPUS welcomes interested members of the public with little-to-no scientific background, of any age and gender, to participate in osteoarthritis (OA)-related research projects. OPUS is reaching out to participants who may have varying degrees of experience with OA: patients, carers for those with OA or even community members who are interested in health care in general.
Opportunity to advocate for the interests of consumers and present consumer views, values and concerns. 
Learn about exciting new areas of medical research.
Network and collaborate with researchers, surgeons, physiotherapists, health economists and students.
Become an advocate for osteoarthritis awareness in the community.
Please contact our Consumer and Community Liaison Officer, Dr Tilini Gunatillake if you have any questions at opus@opus-tjr.org.au and she will happily walk you through the program and answer your queries.
Already a Consumer with us? Click on the Consumer Portal above to access our Community Board, resources and document repository!
Fields marked with * are required
Still not sure? Keep up to date with OPUS news in the meantime!