Our latest PhD student, biostatistician Sharmala Thuraisingam, has been busy since commencing her studies 6 months ago.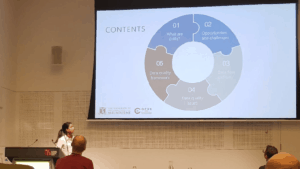 As technology advances further in the medical research world, analysing big data using statistical methods has taken an increasingly important and bigger role. Working within Stream 1, Sharm's research centres around the development of a prediction model for use in the general practice to predict responses to total knee replacement in patients with osteoarthritis. Sharm recently presented her work at the 2018 Joint International Society for Clinical Biostatistics and Australian Statistical Conference and was awarded one of four SSA EJG Pitman prizes for the most outstanding talks presented by Young Statisticians!
This comes off the back of a successful joint Royal Australian College of General Practitioners (RACGP) Foundation and HCF Research Foundation grant application spearheaded by Sharm.
The research grant is only one of two that was awarded for research into health services relevant to general practice, particularly, the effectiveness and quality of care. Sharmala's research embodies the first pillar of OPUS's research framework: outcome modelling at the general practice. The focus here is to provide GPs with a tool to predict outcomes for people with osteoarthritis. Of the people who go on to undergo total joint replacement surgery, up to 20% reportedly do not benefit from it so a predictive tool that can avoid costly surgery would be hugely beneficial. The grant will fund the development of a statistical predication model that will underpin the construction of a technology-driven tool: a smart phone app or web-based application that can efficiently extrapolate information entered to provide the most appropriate personalised treatment options available.
This is a fantastic outcome for Sharmala and validates the OPUS mission: to improve health care for people with osteoarthritis using evidence-based research. Sharmala is supervised by Drs Jo-Anne Manski Nankervis and Panagiota Chondros and Associate Professor Michelle Dowsey.