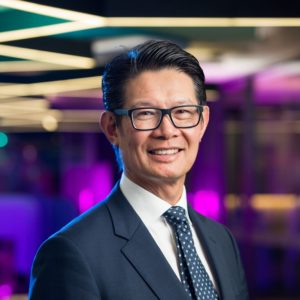 Research areas:
Total Joint Replacement
Sarcoma
Musculoskeletal
Institute/Affiliation:
The University of Melbourne
MBBS, FRACS, MD, FAOrthA, FAAHMS
Professor Peter Choong is the Sir Hugh Devine Professor and Chair of Surgery at St. Vincent's Hospital Melbourne (2009-). In this role, he is head of academic surgery at St. Vincent's Hospital and leads a vibrant programme of teaching, training and research across the surgical disciplines. Through his Department of Surgery portfolio role of Research Lead, he is also responsible for developing and supporting the relevant strategies and infrastructure to drive the growth and success of surgical research across the 6 University of Melbourne hospital campuses (St. Vincent's, Royal Melbourne, Austin, Western, Northern, Royal Victorian Eye an Ear Hospitals).
Professor Choong also leads an ambitious programme of musculoskeletal research that encompasses basic science, bioengineering and clinico-epidemiology. His multidisciplinary research programme is characterised by 3 distinct, but related themes including:
Degenerative joint disease
Orthopaedic tumours
Advanced limb reconstruction
These themes speak to the role that musculoskeletal conditions play as a leading cause of disability and underpin the clinical programmes he has led over the last 20 years in orthopaedics and orthopaedic oncology. Professor Choong's research places him in the top 0.5% of published researchers in total joint replacement and sarcoma research worldwide (Expertscape) and his knowledge and skills in collaborating, mentoring and inspiring researchers has allowed him to build and lead a multidisciplinary and talented team of scientists and clinicians. His research is fully funded by recurrent NHMRC, ARC, CRC and NGO funding (career >$25,000,000). Professor Choong's clinical research is driven by big data. He conceived and established the St.Vincent's Melbourne Arthroplasty Outcomes Registry (SMART registry) which is a unique Australian surgical registry that drives his OA surgery outcomes research. This valuable asset has underpinned his team's research success which has resulted in the award of the NHMRC Centre of Research Excellence grant. This grant kick-started the establishment of OPUS as we know it: the Centre for Research Excellence in Total Joint Replacement.
Professor Choong is Director of Orthopaedics, St. Vincent's Hospital Melbourne and was the inaugural Chair of Adult Orthopaedics in Melbourne (1996). In this role, Professor Choong was responsible for developing and leading Melbourne's first academic orthopaedic department focusing on joint arthroplasty and orthopaedic oncology. Today, the St. Vincent's Department of Orthopaedics is the Victorian State Arthroplasty Centre, and also a national centre for bone and soft tissue sarcoma surgery. Professor Choong is also the Chair of the Bone & Soft Tissue Sarcoma Service at Peter MacCallum Cancer Centre. Through his clinical, academic and administrative leadership roles at St. Vincent's, Professor Choong has driven many successful initiatives impacting the teaching, training and research at St. Vincent's. These include the St. Vincent's Education Centre, which is a multimillion dollar integrated teaching centre that incorporates a wet surgical training laboratory, simulation laboratory, skills laboratory, and conference facility that is linked to the hospital's operating rooms, the Elective Surgery Access Scheme, a high-volume clinical programme delivering comprehensive and coordinated care for patients with end-stage osteoarthritis, new state of the art Elective Surgery Operating Theatres, and refurbished Department of Surgery complex providing studying, learning and meeting facilities for surgeons. Recently, Professor Choong spearheaded the establishment of a comprehensive translational laboratory, the Advanced Biofabrication Facility (BioFab3D) in the Department of Surgery at St. Vincent's Melbourne which increases capacity and capability for tissue engineering and advanced bioprinting. This facility is the hub for his ARC funded multi-institutional collaborative research programme into Advanced Limb Reconstruction.